Developers Eye Bifacial and Trackers as Greek PV Takes Off
Greece is set for an explosion in solar investment—and developers are looking to combine single-axis trackers with bifacial panels to maximize returns.
The Ptolemaida countryside, in Kozani, central Greece, is scarred by the Kardia open-pit lignite mine and overshadowed by the coal-fired Agios Dimitrios Power Station. These blights are testament to Greece's lignite-heavy energy past—but are being challenged by newer, cleaner energies. Greece has plans to install 8.7 GW of renewable energy capacity by 2030 in lieu of 4 GW of lignite generation capacity retirements by 2028. And developers are looking to enhanced technology to hasten the transition from fossil fuels to renewables.
Bifacial modules and single-axis trackers are a common sight in the solar projects now being erected near Ptolemaida. And they are becoming a design feature of choice for projects in Greece as a whole, as the nation embraces solar. A plant being built by Greek national electric utility Public Power Corp in Kozani will be one of the largest bifacial projects in the whole of Europe, for example. It is not hard to see why integrating bifacial panels and single-axis trackers is so popular in Greece, either.
Despite progress towards clean energy, investors and asset owners will be wary of Greece's record on retroactive regulatory changes, such as that which cut PV plant profitability by 30% in 2014. One way to tackle risks to profitability is to make sure solar can outcompete other energy sources. Utility-scale solar already beats new lignite and natural gas, which account for 70% of electricity generation today, according to research by the analyst firm BloombergNEF.

Outcompeting Fossil Fuels in Greece
"Most importantly, it is also already cheaper to build a new wind or solar plant than to run existing lignite assets, thanks to falling renewables costs," says the firm. "By 2025, building new renewables also looks cheaper than running existing gas plants."
To maintain this competitive advantage while delivering sustainable, realistic returns, solar plants need to operate at maximum efficiency. Efficiency is also important in Greece because of land-use conflicts. Solar plants occupy land that may be valuable for agriculture or tourism, which makes it important for solar developers to squeeze as much energy out of each square meter of land designated to the PV plant. This is where trackers and bifacial panels come in.
Trackers have long been used to optimize solar plant output and the technology is surging in popularity as developers strive to reduce PV's levelized cost of energy (LCOE). According to IHS Markit, global shipments of single-axis trackers rose 40% year-on-year in 2020. "While cost and performance will always remain key requirements for PV developers, tracker product reliability and adaptability are becoming increasingly important for developers as flat open land becomes increasingly scarce and costly," observed IHS Markit senior research analyst Jason Sheridan.
Built to Take the Biggest and Best Solar Modules
"Tracker products will be chosen based on proven ability to operate under harsh weather conditions, such as high wind and snow loads, and suitability for installation on rugged or sloped terrain," he adds.
The need to withstand weather impacts has been exacerbated in recent years with the advent of ultra-high-power modules, which by dint of their large size impose heavier weights on trackers and can be more susceptible to wind damage. Tracker models such as TrinaTracker's Vanguard 2P and Agile 1P series have been built to support the latest Vertex 670W+ modules while increasing yield gain. TrinaTracker's products also undergo wind tunnel tests to assess the aerodynamic stability and wind-induced buffeting responses of the tracker.
Alongside tracker technology, bifacial modules can allow developers to achieve higher returns for their plants. Bifacial panels can produce electricity from both sides of the module, allowing an increase in production of up to 30%. In addition, bifacial modules are equipped with strengthened glass in place of traditional white back sheets. This improves module protection and allows vendors to offer a 30-year warranty on the products, compared to 25 years for mono-facial modules.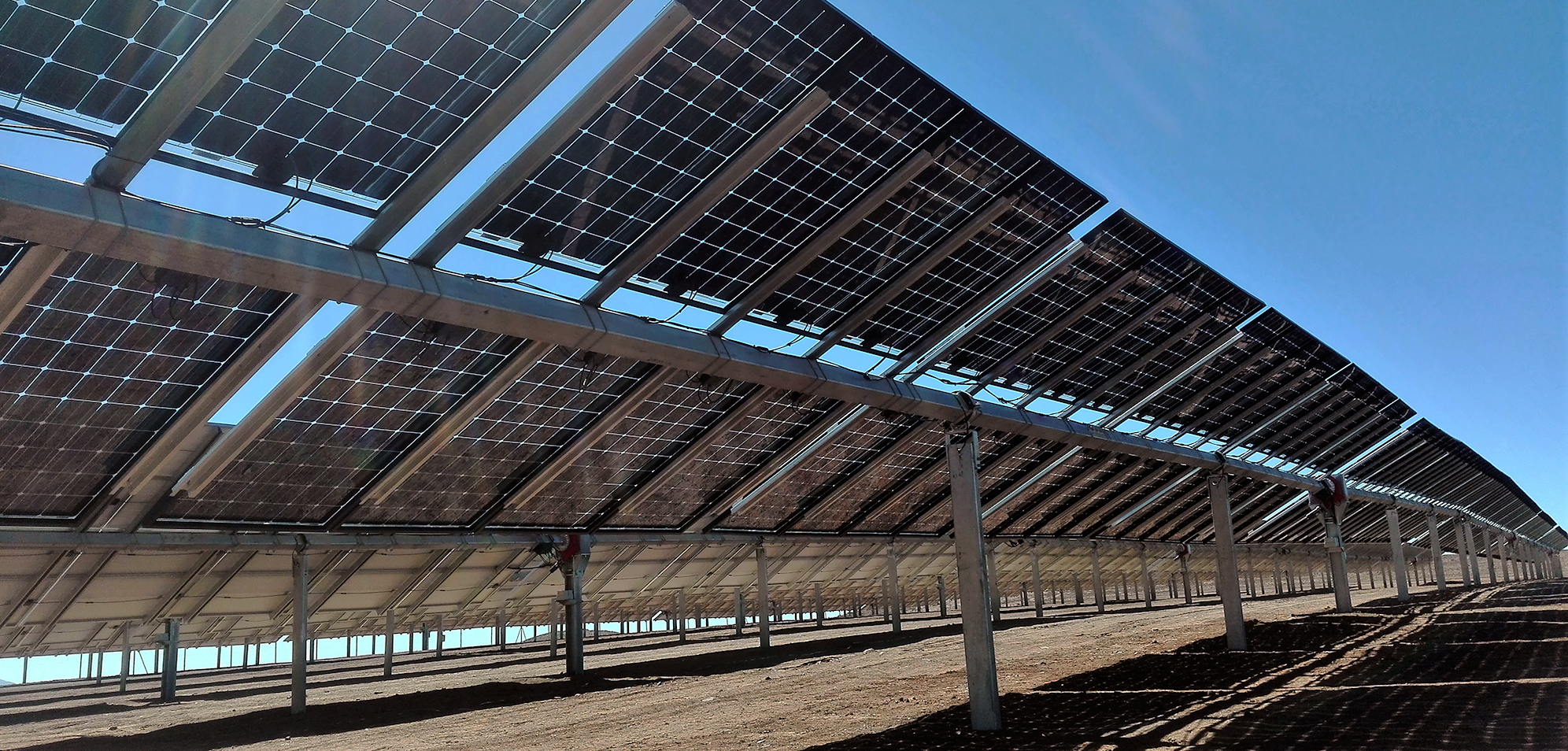 Working Together Improves the Benefits
Although bifacial modules have traditionally been more expensive than mono-facial designs, the cost gap has decreased in recent years. Sales of bifacial products have grown accordingly, up from 9% of total module units in 2019 to 21% in 2020 and an estimated 39% this year, based on data from InfoLink Consulting.
Single-axis trackers and bifacial modules can each deliver significant improvements in energy yield, but the effect is even more pronounced when the new 210mm cell technology is integrated in a single plant. According to a study by Fraunhofer ISE, a combination of Trina 1P trackers and Vertex bifacial modules using this type of cell can deliver up to a 6% cut in LCOE compared to traditional modules with smaller cell sizes. Capital expenditure (capex) is also reduced, the study found.
Compared to M6, for a 50 MW single-axis system plant with an initial investment capex of about €25.5 million, the bifacial G12 Vertex 660 W system saves nearly €1.5 million, according to the Fraunhofer ISE analysis.
Capturing Energy in the Early Morning and Late Afternoon
Much of the reduction in LCOE comes from an integrated system's ability to capture sunlight early on and late in the day when the sun is at too much of an angle to deliver electricity in traditional systems. Bifacial modules have an average daily power gain of almost 12% compared to mono-facial panels, for example, but in the early hours that gain rises to nearly 20%. And when bifacial modules are paired with trackers, the daily average gain can exceed 30%—while at first light it can be as high as 120%.
Trina Solar, furthermore, offers an intelligent algorithm called SuperTrack, which calculates the impact of weather and shading on the tracking position. In a demonstration project in China, the algorithm was found to improve energy gain up to 8% compared to traditional astronomical algorithms. Elsewhere, research by the Solar Energy Research Institute of Singapore has found that integrated bifacial and single-axis tracker plants can outperform standard projects on LCOE in more than 93% of cases.
The researchers discovered that using the trackers with bifacial modules could cut LCOE by an average 16% in most locations worldwide, while boosting yield by between 35% and 40%. For Greek solar project developers, with ready access to greenfield sites and the latest available PV technology, these benefits of integrating bifacial modules and single-axis trackers are just too important to ignore.